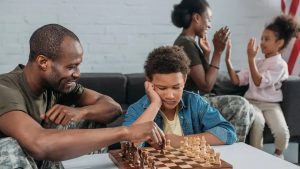 For many people, buying a home requires a pile of cash, putting homeownership out of reach. However, for those who qualify because of their military service (or spouse's military service), it's possible to get help buying a home with little or no money down through the VA loan program.
What is a VA loan?
A VA loan is guaranteed by the U.S. Department of Veterans Affairs. The loan itself isn't actually made by the government, but the fact that it's backed by a government agency makes lenders feel more comfortable offering these loans, because they take on less risk than with a conventional mortgage.
As a result, it's possible to get a VA loan without a down payment, and — sometimes — with looser credit standards. While you still need to meet certain requirements, and the lender still needs to approve you, if you qualify for a VA loan, it can help you attain homeownership with less money than you'd need in the bank otherwise.
How do VA loans work?
Basically, you fill out paperwork from the VA that verifies your eligibility for the program. You also receive what's known as your entitlement, which is the dollar amount guaranteed on each VA loan. Lenders might be willing to loan up to four times the amount of your entitlement.
With all of that in place, it's possible to get a VA loan with no money down. VA loans also don't require private mortgage insurance (PMI), but you will pay a VA funding fee when you close, which will be a percentage of the loan's total value. That fee helps keep the program running for future borrowers.
What are VA loan eligibility requirements?
First of all, you need to make sure you're eligible for a VA loan. The government has service requirements for veterans or those on active duty, and also offers opportunities for certain military spouses to qualify for VA loans. You can get more information from the government's website, but the basic requirements include:
You're currently on active military duty, or you're a veteran who was honorably discharged and met the minimum service requirements.
You served at least 90 consecutive active days during wartime or at least 181 consecutive days of active service during peacetime.
Or, you served for more than six years in the National Guard or Selective Reserve.
If your spouse died in the line of duty, you may qualify for a VA loan.
In order to apply, you need to obtain a VA Certificate of Eligibility, or COE. Without this certificate, you won't be able to get your loan.
How to apply for a VA loan Certificate of Eligibility
If you're looking for a VA loan Certificate of Eligibility, you can get one by applying through your eBenefits portal online or even applying through your lender.
In order to apply, you do need to provide different information, based on your current status. Veterans do need to provide a DD Form 214, and active duty servicemembers need a signed statement of service. A statement of service should include:
Full name
Date of birth
Social Security number
The date you started duty
Any lost time
Name of the command providing the information
Different requirements may apply for National Guard or Reserve members, as well as surviving spouses. You can find more information through the VA's benefits website, or by speaking to a qualified lender.
What are the VA loan home occupancy requirements?
In addition to making sure you're eligible for a VA loan, you must meet occupancy requirements. You must live in the home you're financing as a primary home — the money cannot be used for an investment property or vacation home.
It's also possible to refinance a VA loan, and the VA offers a program designed to help you refinance to a lower-rate loan.
What are VA loan underwriting requirements?
Each lender has its own criteria for deciding who's a "good risk" for a mortgage. However, there are some basic things to keep in mind:
Borrowers need to show they have the income to make the mortgage payments.
They shouldn't have a huge debt load.
While there is no minimum credit score requirement, borrowers might have a hard time getting approved by a lender if they don't have at least a 620 FICO Score.
It's also possible to use home loan benefits after bankruptcy, as long as sufficient time has passed.
What are VA entitlements and why are they so important?
A key feature of VA loans is the entitlement. A VA loan entitlement is basically the amount of the loan that the VA will guarantee to the lender if you default.
There are two types of entitlement:
Basic entitlement: up to $36,000 for loans worth less than $144,000, or 25 percent for loans of that amount or more.
Bonus entitlement: Up 25 percent of the Federal Housing Finance Agency (FHFA) loan limit, minus the basic entitlement.
For those who need to purchase a home that costs more than $144,000, the bonus entitlement can be used. For example, in most counties in the U.S., the FHFA conforming loan limit in 2021 is $548,250. In that case, 25 percent of the loan amount would be $137,062.50. However, for the total entitlement, you need to subtract out the basic entitlement, leaving you with $101,062.50 in bonus entitlement money.
Many lenders are willing to loan those who qualify for a VA loan up to four times the amount of their entitlement, so you might be able to get a loan for $144,000 on the basic entitlement of $36,000.
For those who live in high-cost areas, the bonus entitlement is figured in the same way, but based on the higher FHFA conforming loan limit, which is based on the county where the house is located. Before applying, check the FHFA website for more information on the loan limits in your area.
How to apply for a VA loan
Once you have your paperwork in order, you can apply for a loan through a VA lender. Not every institution offers VA loans, so you need to look for a lender that will work with you. In many cases, a good VA lender should be able to answer your questions and guide you through the process.
Be sure to compare loan terms and VA mortgage rates to ensure you're getting the best deal for you. Also, make sure you're aware of some of the basics of the VA loan process before starting.
What are the VA loan amount limits in 2021?
Since January 1, 2020, there have been no official limits to the value of VA loans, but your lender may impose their own terms and your entitlement will still be pegged to conforming mortgage limits.
VA closing costs
As with any mortgage, different lenders have various closing costs. You might need to pay for discount points, a credit check, VA appraisal fees, title insurance and other costs, including local and state taxes.
Generally, it's possible to wrap your VA closing costs into the loan amount. However, that increases how much you need to borrow and can cost you more.
Do VA loans require PMI?
No, unlike other loans, you don't need to worry about private mortgage insurance (PMI). Due to the entitlement, which usually amounts to more than 20 percent of the home's value, you don't need to pay PMI on a VA loan.
What is a VA funding fee and how much does it cost?
While you don't have to worry about PMI, you do have to pay a VA funding fee. Your VA funding fee depends on the size of your VA loan down payment, and whether it's your first-time use of the benefit.
| | | |
| --- | --- | --- |
| Down payment | First-time use | Subsequent use |
| None | 2.30% | 3.60% |
| 5% – 10% | 1.65% | 1.65% |
| 10% or more | 1.40% | 1.40% |
So, while a VA loan down payment isn't required, it can save you money to make a down payment.
Help for struggling VA borrowers
If you're struggling with your VA loan, there's extra help available. The VA can help you negotiate with your lender if you can't make payments. With the help of the VA, it's possible to avoid foreclosure through loan modification or other repayment plans. Call 877-827-3702 if you need help.
Other uses for a VA loan
While a VA loan is often used to purchase a home, it can also be used to construct a home. It's also possible to use VA financing for a cash-out refinance or in conjunction with the Native American Direct Loan program. Finally, you can also use your VA loan benefits with adapted housing grants. This can be a big help if you're struggling with homeownership.
Can existing VA borrowers lower their interest rates by refinancing a VA loan?
On top of that, it's also possible to reduce your interest rate by refinancing a VA loan through the interest rate reduction refinance loan (IRRRL). This loan requires you to use additional VA financing to replace your current loan and comes with an upfront VA funding fee of 0.50% of the loan amount.
In the end, the VA loan program can be a big help to those who have sacrificed their country and want to achieve the dream of homeownership.
Written by: