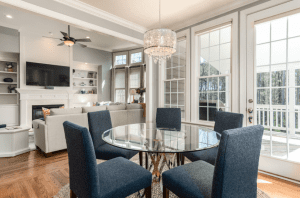 When you're planning on listing your home, you most likely want it to sell quickly. After all, the longer a home sits on the market, the lower your profits and the higher your maintenance costs tend to be. So, if you want to save money and time when selling your home, focus on these projects that will increase the appeal of your property and help attract more potential buyers.
Decluttering
Clutter can be distracting to potential buyers when they are visiting your home, which is why you should consider looking for storage deals that will make clearing out any extra furniture or other items much easier. Since this is a temporary expense, renting a storage unit shouldn't have too big of an impact on your budget. Plus, you can find some pretty amazing specials on local storage. For instance, Prime Storage in Asheville is currently offering two months free with two months paid, which can be a perfect amount of time to declutter your home and sell it fast.
Deep Cleaning
In the process of decluttering and organizing your home, you may have uncovered a few unexpected dust bunnies. If you want to sell your home quickly, you need to make sure those dust bunnies and any other grime are out of sight before people stop by. A good deep cleaning should do the trick, and you can take care of the cleaning yourself or you can allocate a portion of your budget to hiring professional cleaners to do it for you.
Staging
Now that the clutter, dirt, and dust are out of your home, you can work on staging your rooms to really "wow" potential buyers. You really should work room by room so that you can focus on highlighting the best areas of your home for buyers. Since you've already decluttered all areas, you can focus on sprucing things up with a fresh coat of paint, preferably in neutral colors that will be appealing to more potential buyers and will help your home appear more spacious.
De-Personalizing
De-personalizing is another essential staging step that you cannot skip if you want to attract the most potential buyers and more profitable offers in record time. If you left out any photos or personal collections while you decluttered, cleaned, and staged your home, it's best to put those artifacts away. Doing so helps potential buyers imagine themselves living in your house, which, in turn, can encourage them to form an emotional attachment that leads to a faster offer.
Boosting Curb Appeal
If you want buyers to fall in love, you have to help it make a lasting first impression. This is why enhancing curb appeal can be so important when it comes to helping a home sell faster. Cleaning up your yard, planting colorful flowers, and re-mulching your flower beds are all simple steps you can take to boost your home's curb appeal and help attract buyers to your listing. If you have some spare time and cash, repainting your front door can also help.
Taking Professional Photos
While boosting curb appeal can impress buyers who visit your home in person, it's important to remember that most people start their home search online. So attractive listing photos are also essential for helping your property make the best first impression on buyers. A professional real estate photographer will understand how to use lighting, angles, and editing to make the most of your home's best features and ensure that more buyers attend open houses and showings.
Hiring a Listing Agent
Finally, if you want to streamline all of the steps above and save yourself some stress, time and guesswork along the way, you should start your selling process by hiring the right listing agent. Listing agents who have experience and knowledge in your local housing market will know exactly what current buyers are looking for in potential homes. These insights can make your prep work so much easier and can also encourage faster offers.
Helping your home find buyers doesn't have to involve complicated tricks or secrets. Just work on the essential staging projects above and you should have no problem selling your home!
Photo Credit: Unsplash