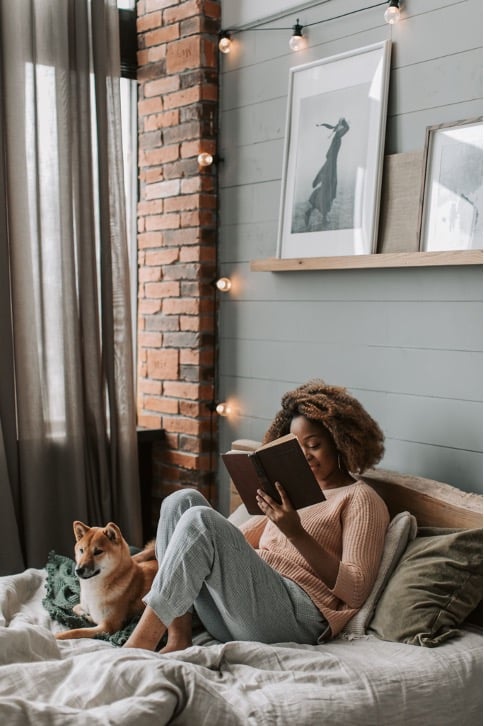 Are you ready to downsize, but have anxiety about living in a smaller space with one or more animals? Don't be. Whether you are moving for retirement or just to embrace minimalist living, here are some suggestions from real estate agent Alexandra Schrank to ensure that your entire family is safe and happy through the move and beyond.
Budget: Your First Hurdle
Buying a house always involves the exchange of money. Your first job is to take a look at your budget to ensure you can afford everything you and your family need. If you have not bought a home in many years, you may experience sticker shock. Real estate prices have increased dramatically over the last decade, whether you're buying new or existing construction. Work with real estate agent Alexandra Schrank to get a feel for the current market and prices in your area, and stay abreast of mortgage news before you make any decision. It's best to move when mortgage rates are low, so watch the market and try to be strategic. You'll also want to understand the differences between a traditional, FHA, and VA loan so you make the best decision for you. While you may ultimately have to move, it might be wise to wait if rates are high, if you have very little equity, or if you cannot afford a down payment, even on a smaller home.
You may find that your budget and your needs are more aligned with a rental property. In that case, you can choose to rent out your current home to continue to accrue equity, or you can sell it and tuck away your proceeds. There is no right or wrong choice here; just the choice that best suits your – and your pet's – needs.
Sidestepping Constraints of a Small Space
Once you've decided that you're ready, you'll next want to consider the pros and cons of moving to a smaller space when you have animals in tow. If you are moving with multiple family members, you'll all have less privacy, including your animals. But, you can find ways to open up your home so that you can all spread out.
The smartest way to do this is to look for fence installers that can make sure your backyard is safe. You might also consider adding a gazebo or screened-in deck. No matter which project you choose, get multiple quotes and check reviews. For every large project, make sure your contractor is licensed.
Look for areas that have dog parks and other features that will be helpful for you and your pup. Asheville is home to many great off-leash parks, so explore the neighborhoods around these parks to find one that's right for you. In fact, there are plenty of dog-friendly places for you to explore with your furry friend. Downtown Asheville has many restaurants and breweries that will welcome you and your pet, so this could be a great area to explore for renting or purchasing your home.
Getting the Most Out of Your Current Home
Now that you know your budget, it's time to squeeze every last drop out of your current house. While the market dictates the general selling price you can expect, there are a few things you can do to maximize your profits. Make simple fixes, such as touching up scuff marks, using neutral paint throughout the home, and cleaning.
Importantly, since you have pets, you'll want to eliminate odors – not just mask them. A few ways to do this are to open the windows, shampoo the carpets and the upholstery, and wash your pet's bed at least once each week. Move litter boxes to the garage and clean them daily. You'll also want to vacuum and remove pet fur throughout the home, paying close attention to corners where dust and hair can collect.
A side note here: Since you're downsizing, you might also consider having a yard sale to help you pull some cash out of furniture and other personal belongings you can't take with you.
Moving Day Safety
No matter when or to where you move, your animal's safety is your number one priority. Reduce stress by clearing out one room and making it off-limits to movers. You can work with your pet in advance to get them crate trained, and place the crate in this room. Most animals find their crates comforting once they are used to them, which can be incredibly helpful during the stress of a busy moving day. Look online for vet-reviewed crates to ensure you find a quality product that is also the right size for your animal.
Docupet also suggests updating their tags and microchips to your new address (and, if applicable, phone number) as soon as possible, ideally before the move. There are even pet collars that have an Airtag embedded to ensure that you can find your pet if they wiggle through a loose fence board or sneak out between legs at the front door.
Low Stress Transportation
A crucial part of safety for you and your pet is finding reliable movers to transport your furniture and items to your new location. To find well-reviewed moving professionals, view local movers and read customer ratings and testimonials before getting in touch with a moving company.
If possible, move your cat or dog yourself in your own vehicle. Keep your dog strapped in safely and ensure they have treats, food, and water for the ride. Your pet will feel more comfortable with you and in a vehicle with which they're familiar.
Moving is a big job, even if you've chosen a smaller space. When you have pets, there are even greater challenges to navigate. But having a smaller home is often a more affordable option, particularly for retirees looking for more convenience and a single-story property.
Photo Credit: Vlada Karpovich via Pexels