Susanne Willis, a local Asheville friend who I met when she owned her own business leading work out sessions with moms, now is the Asheville Area Director for AuPairCare. When I talked with Susanne about her new career venture, she told me, "I am super excited. It is a really neat program that connects international au pairs (nanny) with host families here in Asheville. Live in childcare with a cultural twist!"
The word "Au Pair" is a French term, which means "on par" or "equal to", denoting living on an equal basis in a reciprocal, caring relationship between the host family and the children. An aupair will typically be a young woman and sometimes a young man from a foreign country who chooses to help look after the children of a host family and provide light housekeeping. The aupair is given room and board and is typically paid a weekly "pocket-money" salary. Aupairs generally stay with their host family for one year.
To me, it makes perfect sense that this company has expanded to Asheville. I believe our market of many open-minded individuals will openly welcome the opportunity to develop interpersonal relationships with diverse cultures. Getting to welcome a live in au pair into your family and home for one year can change your life in many positive ways.
This is a unique opportunity for families who want a cross cultural experience with a highly experienced and trained live in nanny. Each family gets to watch videos of the candidates and follow up with an interview. Susanne will personally walk you through the process. If you are interested in learning more about this program, give me a call and I will have Susanne reach out.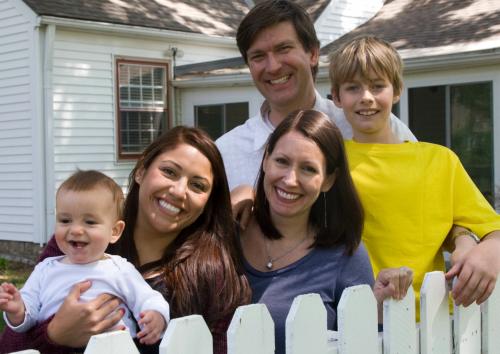 TESTIMONIALS 
"Gillian not only brings a peace of mind that the children are cared for especially when we are not around, but she also provides reassurance that they are being loved and cared for in a way that genuinely shows affection. She is also constantly thinking of ways to make our lives better and less stressful so that we can enjoy the time we share with our children."
Gaudio Family, Ashburn, Virginia
"Our au pair Elisabet joined our family in June of 2013, six weeks before the arrival of our second child. She instantly connected with our daughter and made herself a part of our home. When I think back to her first few weeks, it seems as though she was always a part of our family."
Ochoa Family, Coronado, California
"We had read through at least a hundred other profiles and felt confused and conflicted about using an au pair as the right childcare option for our family. Once we found Sara however, we knew this is what we wanted. Her experience and her mannerisms, the way she wrote and her views of life match ours, as if we were made for each other."
Lovelace Family, Lynwood, Washington