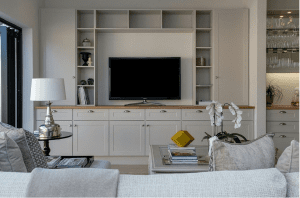 (Photo via Pexels)
According to a report from CNBC, homeowners who rent out their properties for vacationers make an average of $924 per month. For those who have the extra space, turning a home into a vacation rental can quickly become a lucrative passive income opportunity.
If you've been considering converting a room (or your entire home) into a vacation rental, it is incredibly important to complete all necessary repairs and updates prior to listing your property. For those who are looking to make strategic updates that will increase the value of their home, as well as their requested booking rate, there are specific upgrades that will maximize your ROI.
If you're wanting to jump into the Asheville vacation rental business, The Mountain Star Team offers the five top home upgrades that will help your new rental property become a success:
Patio or Deck
Beautiful view or not, patios and decks make an amazing spot for your guests to relax and unwind. Industry experts agree that the addition of either a patio or deck can provide a serious return on your investment.
What is so wonderful about this home upgrade project is that you can make it as simple or as grand as you would like. If you currently have no outdoor living space, adding a simple DIY concrete or brick patio with affordable outdoor furniture can transform the look of your home's exterior. For those with a large renovation budget, consider adding premium features, such as an outdoor kitchen, hot tub, or fire pit to attract guests.
Landscaping & Exterior Appeal
All homeowners know about the importance of curb appeal. Buying a home that is attractive from the outside is critical for both the enjoyment of the occupants and for the future resale value of the property.
When listing your Asheville home as a vacation rental, looks are paramount. Travelers want to stay in the most beautiful, well-kept properties that they can afford. That's why it is wise to invest in upgrades such as professional landscaping, exterior painting, new windows, siding, and more.
Since first impressions are everything, it is highly advisable to use a vacation rental management company that will represent your investment property well. A top-tier agency will work hard to make your Asheville rental as appealing as possible. The ideal agency will help you organize and keep track of bookings, provide professional cleaning services, and provide timely support.
Bathroom Renovations
Experts at HGTV recently stated that bathroom renovations are one of the top two home upgrades with the highest ROI. Replacing countertops, bathtubs, toilets, cabinets, and flooring can completely change the look and feel of your bathrooms. Newer bathroom features are especially valued by travelers, as they convey a sense of cleanliness.
Premium Kitchen Updates
In addition to bathroom upgrades, kitchen renovations are another one of the top two money making home investments. If you will be allowing guests access to the kitchen, this is another highly marketable aspect of your rental. Being able to store food and cook in a gorgeous, clean, and newly updated space will add massive appeal to your listing.
Guest Bedroom Updates
Seal the deal with your Asheville vacation home listing by designing irresistible guest bedrooms. Your visitors will have high expectations when it comes to their sleeping space. Therefore, updates to all bedrooms should be a top priority.
Create a sense of coziness and cleanliness by updating the bedding, curtains, lighting, and wall paint.
While the process of converting your home into a vacation rental property requires an initial time and monetary investment, the long-term ROI can certainly be worth the work. In addition to making passive income each month, your home upgrade choices can significantly increase the value of your property. With a bit of effort, your new Asheville vacation rental venture can help you create a more stable financial future.
If you're wanting to enter the vacation rental business but don't want to use your home, investing in a new Asheville property can be a great way to boost your income. Work with an expert agent at The Mountain Star Team to find the perfect property for your needs!
 Guest Article: Katie Conroy of Advice Mine