9 Steps to Winterize a Vacant Home
A critical element of homeownership is maintenance and care for your property. Winterization is an essential step in that process. When a home is occupied, many of the things that are necessary to keep it in good working order happen by default. But when the home is vacant, it is up to the owner or the property manager to
prepare it for freezing temperatures and other winter risks. A common issue is frozen pipes, which can lead to bursting pipes, in turn leading to water damage. This will negatively impact the value of the home. Water can ruin
everything from walls, floors, electrical systems, etc. It can even damage the foundation.
The risks of failing to winterize a home are too severe to ignore. Any real estate agent who has been involved with selling bank-owned properties or vacant short sales can tell you the necessity of knowing how to winterize a vacant home. In order to get an informed opinion on the subject, reach out to an experienced and reliable
real estate agent. The Mountain Star Team of RE/MAX Executive in Asheville, NC yields several experienced agents who can advise clients on winterization. Co-founder, Heather Hines, has specialized in short sales for years and is well-versed in vacant property winterization.
To prep your vacant home for winter weather, here are 9 things you can do to prepare before freezing temperatures and other winter risks arrive.
1. Hire a plumber
Hiring a professional plumber to winterize the pipes and water system in the home is extremely important if you want to avoid possible water damage that can occur from freezing pipes. The plumber can examine the entire system and prepare it for freezing temperatures. They will drain all areas where water is stored, like water
heaters and hot tubs, and will use an air compressor to expel water from the pipes throughout the house. With the water removed, you do not have to keep the house heated to prevent freezing. The pipes are protected, and you save money in utility costs. Contact us for plumber recommendations.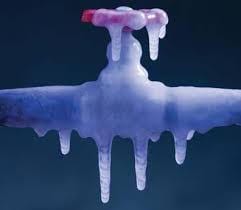 2. Drain garden hoses
Water hoses should be disconnected from the home and drained of water to prevent damage to the hoses and the spigots. Left undrained, the water inside will freeze and burst not only the hose but often the spigot as well. If winter watering must be done to keep landscape plants alive, make sure that after watering, hoses are
drained and disconnected from the spigot.
3. Close up all openings to the house
To prevent animals and insects from entering the home for shelter, you will need to close all openings throughout the house, such as dryer vents and chimneys.
4. Clean and inspect the gutters
Gutters must be free of debris and attached properly to the house to funnel water away from the roof, siding, and foundation. When debris accumulates, and water no longer funnels properly, ice can build up in the gutter. The weight of the ice can cause the gutters to pull away from the home and even pull at the siding. That pulling can allow moisture to accumulate behind which may lead to foundation problems. It is important to keep gutters cleaned throughout the year in order to have proper drainage systems and avoid expensive foundation or mold issues.
5. Remove anything touching the side of the house
Water and insects can accumulate in firewood and debris, such as leaves, causing damage to the siding and leading to potential infestations. Keeping everything away from the house creates a safe barrier and prevents water damage.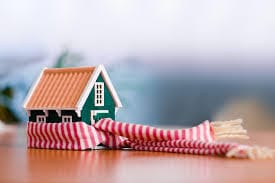 6. Trim the tree branches growing over the home    
Remove any tree branches that hang over the home. Additional leaves falling on the home will contribute to clogging up gutters. Limbs that could potentially fall on the home could also cause a great deal of damage to the roof and structure of the home. If homeowners are negligent regarding tree trimming, they are risking a denial on a claim from their insurance company.
7. Talk to the gas company about disconnecting the gas supply
A gas explosion can cause even more damage than frozen pipes. Let the gas company know the home is vacant and ask them to disconnect the gas supply to the home. Obviously, if you are not living in the home this becomes important because if a gas leak were to form it would be too late for you to do anything about it.
8. Hire a landscaper to perform a fall cleanup
It behooves sellers to clean up after the autumn season. Removing leaves, trimming plants, and overall tidying of the landscape will always help the home show better.
9. Check on the home periodically
An unoccupied home can be appealing to burglars and to squatters. It can also be a destination for kids in the neighborhood to come hang out for fun. The only people you want visiting are potential buyers, so you should maintain a schedule of visiting the home periodically to make sure it is being left alone and to make sure it is still clean after showings and that it will present well for future showings.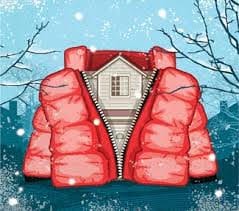 If you are unavailable to have these things done, we can connect you with a local Home Watch Property Management Company to help you through the winterization process.