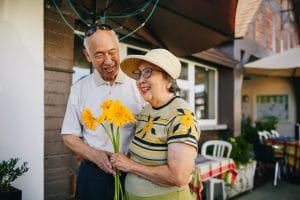 Photo by RODNAE Productions from Pexels
Independence is an important part of life and something seniors like to retain for as long as possible. However, when a senior family member or friend begins to show signs of aging, it might be time to consider moving closer to them. Here are some tips to help from Alexandra Schrank.
Physical Signs of Aging
As people get older, it's more likely they'll experience one or more complex health concerns. Some of these conditions can be highly disabling.
Some of the most common conditions in seniors include:
Arthritis
Diabetes
Heart disease
Hearing loss
Dealing with a range of health concerns could make it increasingly difficult for your senior loved one to carry out everyday tasks and adequately look after themselves. So, if you notice a decline in their health and ability to perform self-care, it might be time to consider moving.
Mental Indications of Aging
Besides the physical effects, aging can have a mental impact as well. Dementia, depression, and confusion are all common conditions seniors can develop.
When someone begins suffering from memory issues or confusion, it can be dangerous for them to live alone or far away from family friends. A dementia diagnosis is a key sign it's time to move.
Some symptoms to look out for include:
Memory loss
Difficulty finding words
Poor organization
Disorientation
How Professionals Can Help Your Loved One
If you think it's time to move closer to your senior loved one, they could probably also benefit from helping maintain their home. For example, if their windows are old and letting in cold air, their health could be affected. In this case, you can contact a window repair service. The national average cost of window repair is $290, but the amount you'll spend will also depend on the type of repair and window you need.
Seniors often want to age in place in their homes if possible. They can, but their safety has to be considered. One of the biggest potential problems for the elderly is injury from falling, so be sure to conduct an inspection of dangerous hazards. For any new projects to be completed or dangerous features to be remedied, consult a local contractor about handling the work.
Simplifying the Moving Process
Once you've decided to move closer to an elderly loved one, you'll want to make the process as simple and stress-free as possible.
One way to do this is by getting a preapproved mortgage. This enables you to figure out how much you can borrow in advance and speeds up the moving process when you find a home you love.
After you've decided to move and sorted out your financing, it's time to enlist the help of a trusted real estate agent to help you in your search. They'll be able to guide you through the local real estate market and answer any questions you have about the community. They'll also be able to help you sell your loved one's home if or when that time comes.
Choosing the Right Time
Doing what's best for those you care about and moving at the right time is important when a relative shows signs of aging, but the process is different for everyone. However, if you notice a senior in your life has developed health conditions such as heart disease, dementia, or arthritis, it's time to consider moving.
This article is brought to you by Alexandra Schrank, a knowledgeable and professional real estate agent, a committed ally to negotiate on your behalf with the systems in place to streamline buying or selling your home with the backing of a trusted company, RE/MAX Executive. For more information about our services, please visit us at our website today!
Additional resources: https://www.caring.com/caregivers/best-walk-in-tubs/