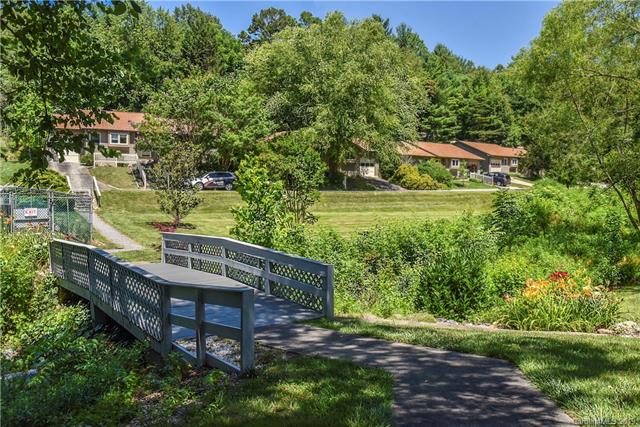 Hawthorne is a small community of townhomes located in the Haw Creek area of East Asheville, nestled in a beautiful valley and conveniently located less than 10 minutes to downtown Asheville. If you live in this area you have quick, easy access to downtown Asheville, the Tunnel Road shopping corridor and the Blue Ridge Parkway. Hawthorne has walkable streets and natural beauty with well-maintained grounds and green space.
The Tunnel Rd commercial corridor features many restaurants and shopping opportunities such as the Asheville Mall, Whole Foods, DSW, Ulta, Belk, Old Navy, TJ Maxx, and Rooms to Go to name a few. That is not all – there is als0 a new commercial development, The Peaks. – a retail center offering 12 restaurant and retail space that is already well underway. The Peaks features several popular attractions such as Blaze Pizza with outdoor dining with mountain views.
In addition to convenience, Haw Creek is also home to high performing public, private, and charter schools. Nearby is the East Asheville Recreation Club featuring a tennis court and a heated outdoor swimming pool. There's also the Charlie Bullman park and the East Asheville Public Library. Buncombe County has approved plans to build a $5.8 million new library. "The existing library building will be demolished to make way for a 14,800-square-foot, one-story facility that would include a multi-use room, a large meeting room, staff offices, parking, and a café. A new playground is included as part of the library project. An existing basketball court on the property will be resurfaced." (Asheville Citizen Times).
Haw Creek has an activist neighborhood association, with many members serving on committees for City Council. Association activities include an ice cream social, pot luck social, Cider Fest, BBQ, National Night Out, Haw Creek Litter Brigade, and much more. 
Access to the Blue Ridge Parkway is another major advantage to calling Haw Creek home. Road cyclists can leave from their front door and head to the parkway in minutes. A day filled with adventure, hiking and sight-seeing are at your fingertips.
Residents of Hawthorne agree "the kindness, camaraderie, and caring of the neighbors, the beautiful views, and the quiet serenity" are all aspects of Hawthorne that make it unique. For those who want them, there are social events, book clubs, and there are excellent programs planned by the Wellness and Caring Committee.
Forbes placed Asheville on its list of the 15 Coolest Places to Go, a distinction it shares with Milan, Egypt, and Cambodia, among others. The list highlights Asheville's "gorgeous scenery," its historic mansions such as the Biltmore Estate, and its "remarkable arts scene." (Asheville Citizen Times)
If you would like to learn more about Haw Creek or see what real estate is available, reach out to The Mountain Star Team of RE/MAX Executive – your local experts in the real estate market. 828-782-1957