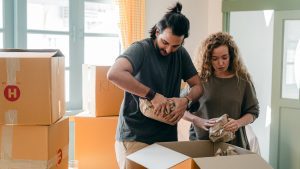 Photo by Ketut Subiyanto from Pexels
Finding out that you got a great job opportunity in a new city is a wonderful feeling. One study showed that almost half of people who relocate do it for job advancement. You want to ride that wave of excitement all the way through the packing and moving process. This pre-move checklist presented by the Mountain Star Team is a way to organize your current life and prepare for your new home quickly, affordably, and with as little stress as possible.
Know Your Location 4-6 Months Before
As soon as your company presents the job offer, start looking for desirable neighborhoods in the area. Ask yourself all the important questions about safety and the cost of living. Will you be able to afford the neighborhood that you prefer? Check out the school districts for your children and the commute for your new job. Are there any great schools around your job location? Will you be comfortable with the commute?
Find a Place to Live 3-6 Months Before
Part of finding the right neighborhood is pricing the average cost of a home. If you are looking for a great community, hire a professional real estate agent like the Mountain Star Team to help you find the perfect location.
Sometimes it makes more sense to rent. For example, if you're planning a move to Seattle, look for Seattle apartments and filter your search for the number of bedrooms and bathrooms you need. If you have a dog, search for places with a nearby park or plenty of backyard space. You can narrow down your search by viewing 3D tours online first.
Consolidate and Downsize 1-3 Months Before
Moving is the perfect opportunity to go through all the things you have collected over the years and decide what to do with them. Sort things as keep, sell or donate. Use the room dimensions for your new home to decide what furniture will work and what has to go.
Once you know what stays and what goes, start packing. The best strategy is to do one room at a time and label each box by room. Give yourself plenty of time for this part. It's all too easy to neglect the organizing part of packing when you're in a hurry to get it done.
Start Planning the Actual Move 1 Month Before
When it comes to the actual move, you can either rent a truck and do it all yourself with the help of your family or hire professionals to take care of it for you. Moving companies come in various levels of service from packing, loading, and unloading for you to pick up and drop off only. Pack a moving day bag of essentials and plan your route before you hit the road.
Potential Outcomes To Avoid
Don't schedule moving days too close to your first day at work. Don't hire moving professionals without reading reviews. Don't deviate too far from your plan. Keeping to your schedule will make your move as stress-free as possible.
Remember to take care of yourself through the moving process. If you're feeling overwhelmed, stop and take a day to relax and reassess. If you've given yourself plenty of time to get everything done, you should have time for self-care as well.